Flexible Pricing
Tidal Pricing
Flexible pricing for every team. Sign up now, scale up anytime. Every new account gets a 14-day trial of our features.
Pilot
Helps smaller teams or pilot migrations reduce time building homegrown solutions.
$30k for up to 60 apps
Start Free Trial
Catalyst
Accelerates migration and application management for large teams or migrations.
$60k for up to 200 apps
Start Free Trial
Enterprise
Ensures scalable and transformative migration practices for global teams.
Get a Quote
All-in-one platform
Unified intelligence and control across cloud migrations.
The Tidal Platform

Full access to our family of data-driven software products that enable modern migrations to the cloud.

Full onboarding support

Every Tidal customer has a dedicated account manager to ensure your onboarding success. Our Tidal Experts are always on standby for a supercharged experience.

Security and Trust

We follow industry standards and best practices to keep your data safe.

Support for AWS, Azure, and Google Cloud

Tidal partners with only the leading cloud and technology companies.

Remove the guesswork from mass-migrations

Know exactly what's involved with the automated Migration Difficulty tool.

Comprehensive, automated application assessment (6Rs)

Automated assessment of your software usage, defects, vulnerabilities, and more.

Value-first cloud migration business cases

See critical information like forecast savings and return on investment (ROI) at a glance.

Transformative migrations, not just lift-and-shift

Start migrating with 6R recommendations, tailored to you.
Frequently asked questions
Can't find the answer you're looking for? Reach out to our customer support team.
Will this replicate my data to the cloud?

TL;DR? No.
Simply replicating your data to the cloud would most likely cause several issues. For one, if you have applications that your enterprise is no longer using, you'll keep paying for nothing. Secondly, if you have outdated software or other issues, these do not get solved, and you end up taking all of your issues with you to the cloud. Not great! With Tidal, you can plan and execute a transformative cloud migration and achieve easier governance - and lower costs.

Why isn't pricing based on server size?

Our approach is more transformative - we want to help you understand what your servers are doing, what they contain, and what your goals are for your migration. We take an application-centric approach. This is why pricing is based on the number of applications you have.

How many seats is my subscription for?

All tiers have unlimited users, so go wild!

What if I have more than 200 apps?

Get a quote for Enterprise pricing.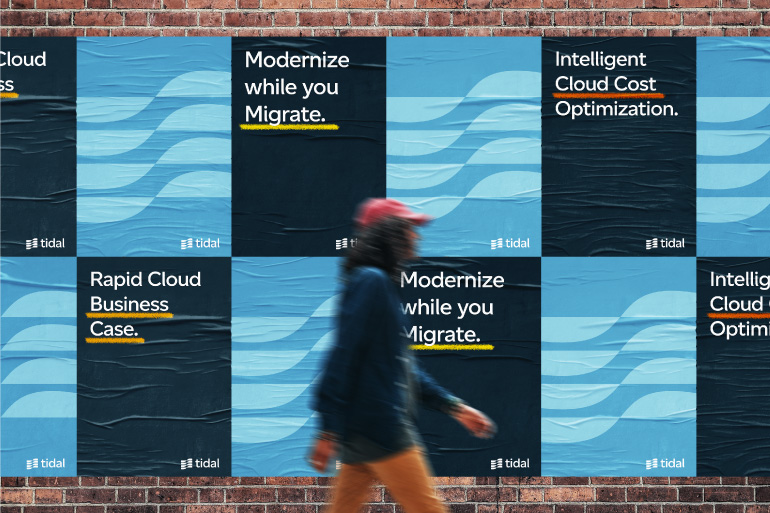 Reimagine Migration Without Complexity
The Tidal Platform is home to a family of data-driven software products that enable modern migrations to the cloud. Get to know Tidal.